Digital marketing tools and techniques are a must-have if you conduct business digitally. In recent years, the world has seen a shift from traditional to digital. From work to entertainment and even dating – there's no denying that the internet has now become integrated into everything we do. But what does this mean for small business owners like you? It gives you a competitive edge – a way to level up the playing field with larger companies – through digital marketing.
Why digital marketing? The answer is simple: your customers are all online. In 2019, an estimated 4.39 billion people across the globe are using the internet. That's a whopping 57% of the entire population!
But it's more than just building an online presence. With the right tools and techniques, you can develop an effective digital marketing strategy that establishes your brand's reputation, produces higher conversion rates, and generates an impressive return of investment.
So, are you ready to power up your business? Here are more than 50 digital marketing tools and techniques that every business owner needs to know:
50 Digital Marketing Tools and Techniques to Power up Your Business
Digital Marketing Tools
Social Media Marketing Tools
 1. Facebook Power Editor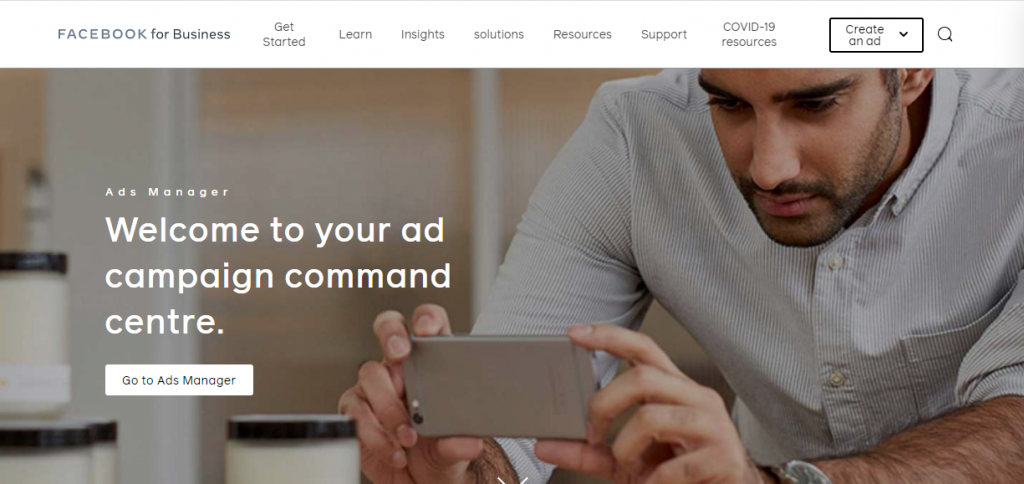 Power Editor is an advertising creation and management tool that can be downloaded using Google Chrome. It's an excellent choice for starting businesses because it helps you manage multiple campaigns and ads on Facebook with no third-party fee.
Standout features:
Device targeting

Optimized bidding

Bulk uploading
2. Twitter Native Platform

Using paid ads on Twitter is a great way to expand your audience reach, particularly towards mobile users. Being a two-way channel of communication, it helps you engage with your followers who are tweeting about your brand individually.
Standout features:
Promoted accounts – promotes your Twitter account to target users who don't follow you but might be interested in your content

Promoted trends – allows you to promote a hashtag at the top of the trending topics list

Promoted tweets – appears in targeted users' timelines, even if they don't follow you
3. Sendible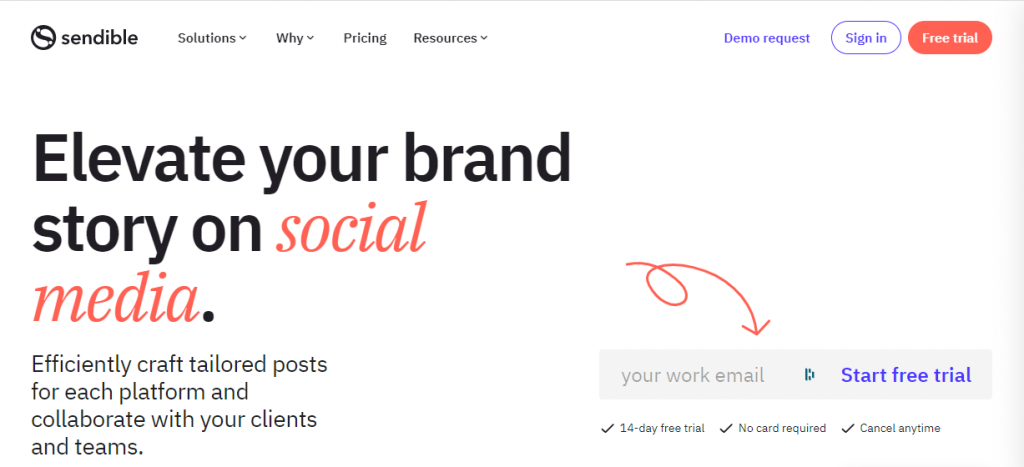 Sendible allows you to post updates to any network or multiple networks from the same compose message box and is compatible with major platforms like Facebook, Twitter, and Pinterest. It helps you monitor social activity, measure your results, and engage better with your audience.
Standout features:
Automatic sentiment analysis

Email and SMS marketing integration
4. Hootsuite
Hootsuite is a social media management system that helps you track what people say about your brand and help you respond instantly. The most compelling feature of Hootsuite is that it allows you to post to multiple channels at the same time – a huge convenience if you manage several social media accounts for better management.
Standout features:
An in-depth view of analytics data

Hootlet – bookmark plugin
5. Sprout Social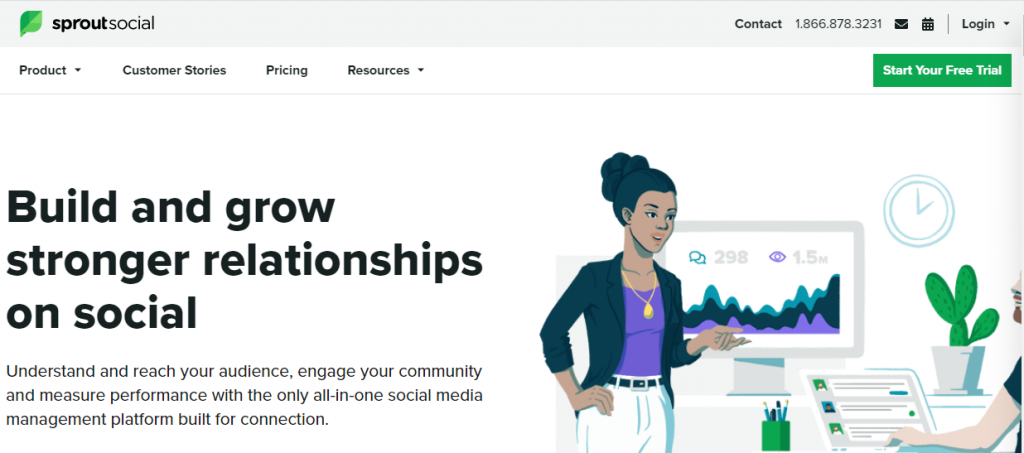 Sprout Social is an all-in-one tool that features multi-level access which makes it easy for managers to coordinate and delegate tasks to team members. Its inbox gathers all your social media messages from different platforms to make sure you respond to all of them.
Standout features:
Full post scheduling capabilities

Detailed analytics platform

Social listening
6. Nanigans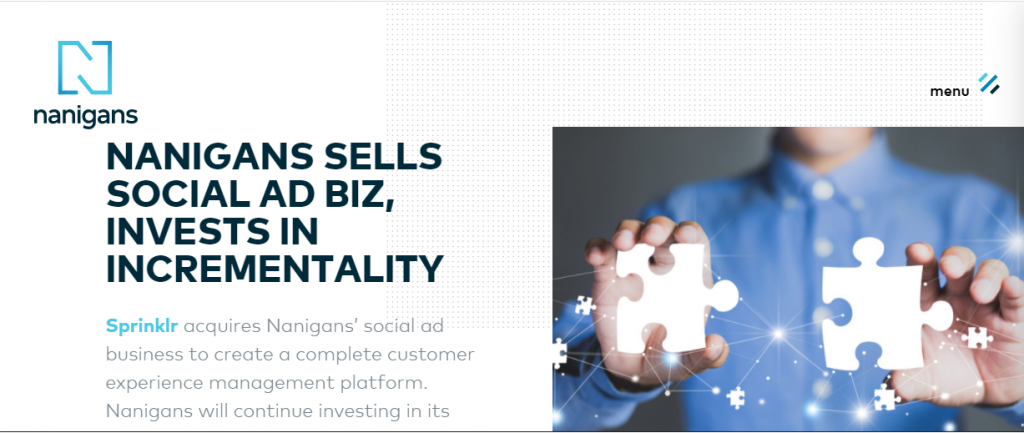 Nanigans is multichannel advertising software that focuses on Facebook marketing, Twitter Ads, and Instagram growth. Offered as Software-as-a-Service (SAS), it features programmatic media buying and predictive revenue optimization. It also measures cross-channel digital ad spend based on incremental revenue.
Standout features:
Unified campaign management

Actionable real-time reporting

Advanced predictive optimization
7. SocialOomph

SocialOomph helps you manage your own social posting as well as your clients. Its easy-to-use interface allows you to upload multiple posts at once and manage multiple media platforms simultaneously. It gives you full control over when and where your content goes live.
Standout features:
Scheduling of blog posts, updates, and status

Auto RSS feeds

Keyword tracking
8. Woobox

Woobox is an app that focuses on increasing consumer interest through social promotion and interactive content. This is done through contests, sweepstakes, polls, coupons, and more across different social media platforms, including Facebook, Twitter, and Instagram.
Standout features:
Social promotions management

Social media integration

Email integration
9. Brand24

Brand24 specializes in media monitoring, online reputation management, and tracking your competition. It lets you track what people are saying online about your brand by accessing mentions of your brand on different social media platforms. It also allows you to segment your mentions between positive and negative.
Standout features:
Sentiment analytics

Influencer score

Affiliate marketing
10. Wyng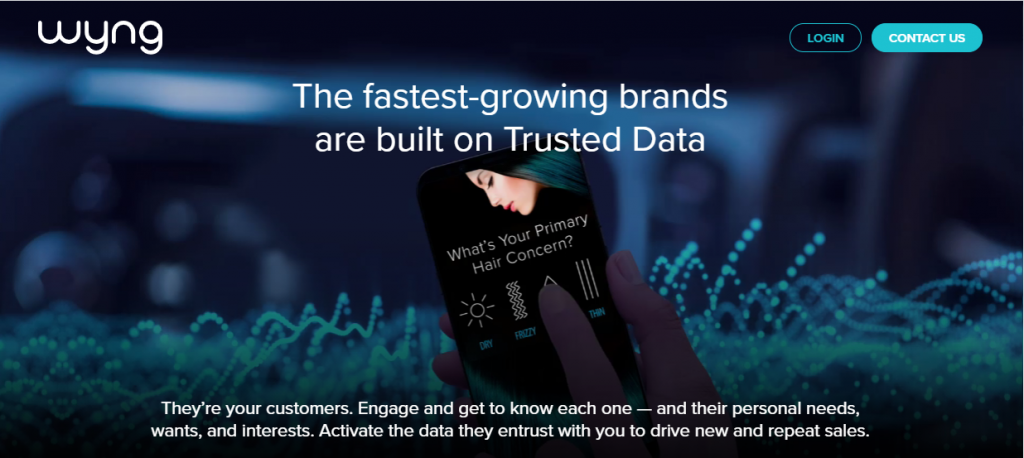 Wyng is an online campaign management software for businesses to build and run immersive digital experience with the end of increasing engagement and going viral. It features several interactive strategies across websites, landing pages, and social networks. These strategies include hashtag campaigns, referral programs, quizzes, and contests.
Standout features:
Built-in analytics dashboard

Drag and drop editor

Beginner-friendly interface
Website Analytical Tools
11. Google Analytics
When it comes to analyzing website traffic, Google Analytics is your go-to tool. It helps you check how effective your brand campaign is, review SEO performance, and track how well users are interacting with your new website. The best thing about Google Analytics is that it's absolutely free – making it a great choice for small businesses that have a limited online marketing budget.
Standout features:
Traffic reporting

Conversion tracking
12. AgoraPulse
AgoraPulse caters utilizes excellent scheduling and analytics features that caters primarily to social media management. It has a built-in customer relationship management (CRM) tool that allows you to build up a list of your most passionate followers. With its user tab, you can track who has been commenting and tweeting your content. The integrated reports and analytics can also be exported as a pdf.
Standout features:
Inbox zero communication

Preview and customization on every social media channel

Facebook and Instagram ad comments management
13. Kissmetrics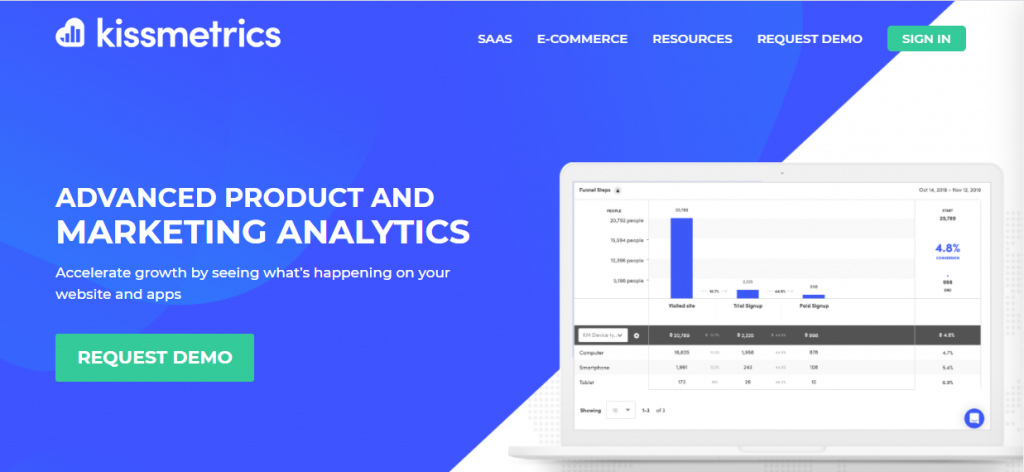 Compared to Google Analytics that only tracks bounce rate, Kissmetrics tracks people, and not page views. It ties every action on your website to a particular person. Using this data, it checks site visitors throughout their entire conversion journey and gives reports at every step of the funnel.
Standout features:
Codeless event tracking setup

Send behavior-based emails automatically

Test multiple landing pages
14. Twitter Analytics

Want to check how effective your Twitter marketing campaign is? Twitter Analytics is a free tool that helps you track likes, comments, and retweets. Its metrics and reports help you understand your followers and how they react to your tweets.
Standout features:
Online tracking conversion

Cost-per-result tracking

Campaign dashboard for impressions and results
15. CrowdBooster
CrowdBooster is a social media marketing and analytics platform that offers real-time data that you can access easily. On Twitter, checking your online marketing performance is done through four dimensions: impressions, retweets, mentions, and time. These key performance metrics are reported and can even be exported via graphs and tables.
Standout features:
Real-time data analytics

Publishing

Post scheduling and optimizing
16. Woopra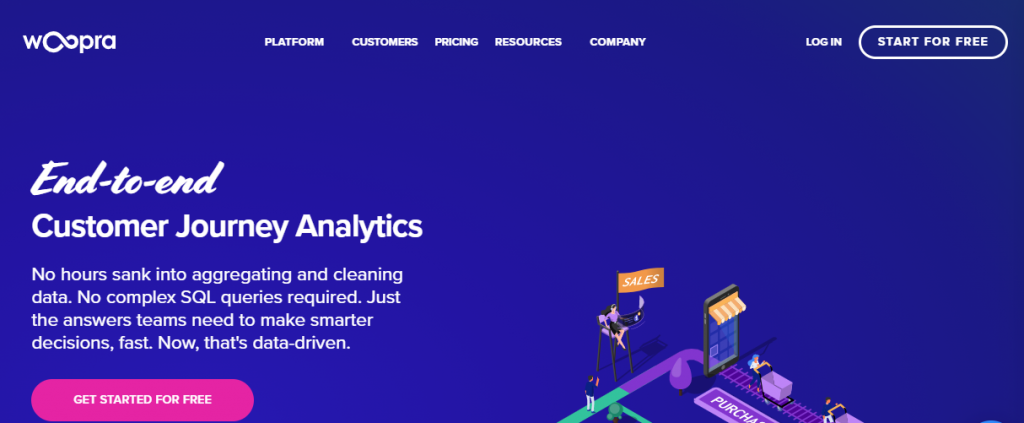 Woopra is an analytics platform that helps eCommerce businesses to better understand their customers. Using several contact points across various devices, Woopra provides customer data synchronization in real time. It analyzes every step of your website's check out process to determine which traffic source is most successful.
Standout features:
Real-time notification

Data from live chat

Build customer segments
17. Facebook Analytics
One of the most used analytics platforms to date, Facebook Analytics is a free tool that lives within your Facebook ad account. It helps you visualize your entire sales funnel by tracking the entire journey from page views all the way to purchase. It also divides data into segments: those who viewed the page, those how commented, and those who purchased.
Standout features:
Insights based on custom parameters

Auto-detected funnels

Funnel conversion
18. Adobe Analytics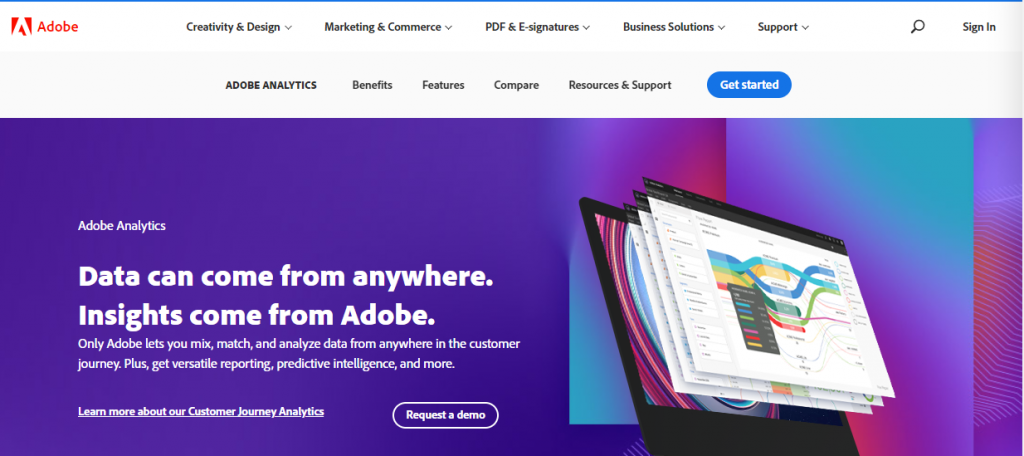 Adobe Analytics provides valuable insights that help you maximize your marketing efforts. It helps your business track important metrics, including reloads, click-throughs, average time spent, and views. These are then used as the basis for creating reports and make paralleled comparisons for better data association.
Standout features:
Predictive analysis

Detailed dashboard

Real-time insights
Graphics and Content Creation Tools
19. Tailwind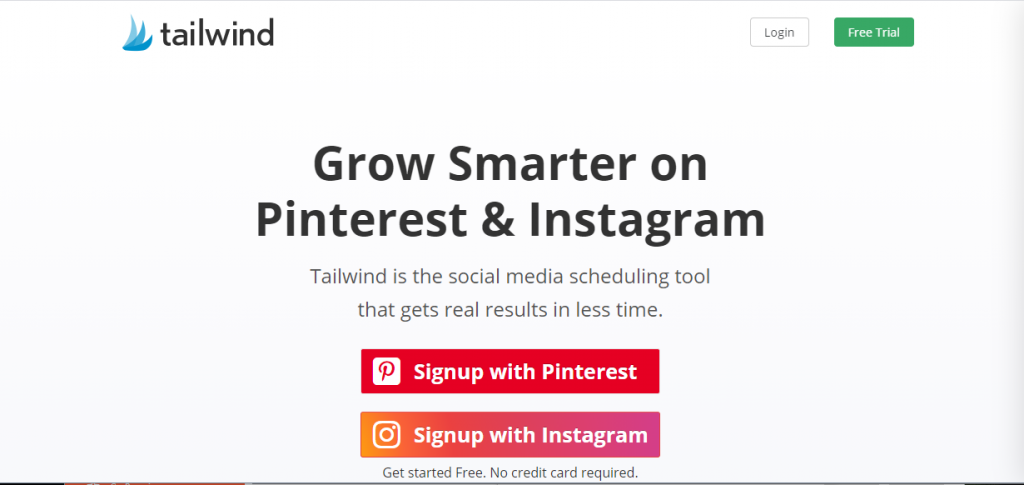 Tailwind is a free visual tool that is used for creating content primarily on Pinterest and Instagram. It comes with a built-in design system that allows you to configure spacing, sizing, colors, and other features.
Standout feature:
Drag and drop calendar for scheduling content

Bulk uploading of posts

One-click hashtag suggestions
20. Visual.ly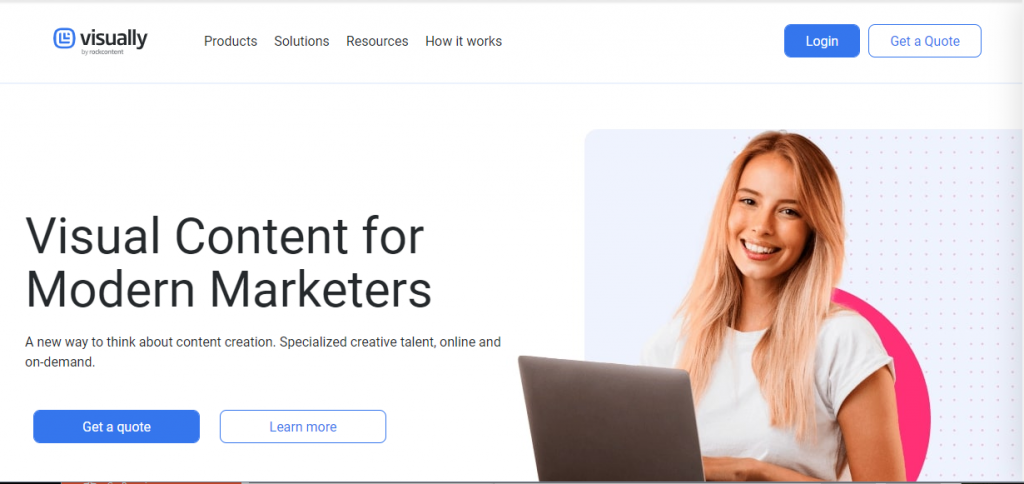 Looking to create unique content but lack the artistic flair? Visual.ly is a content creation platform that offers full creative service from over 1000 professionals. This site charges a flat rate for every project and once you're happy with the content, you can launch it through Visual.ly's distribution network.
Standout features:
Data visualization

Content and product marketing

Social media marketing
21. Visage

Visage is a web-based tool that helps businesses design graphics to be used in different platforms. It helps enhance ordinary data reports by using high-quality, professional visualizations to make your campaign more impactful. It allows you to build your design from scratch or make do of their ready-to-use templates.
Standout features:
Image and theme customization

Social media graphics

Drag and drop system
22. Canva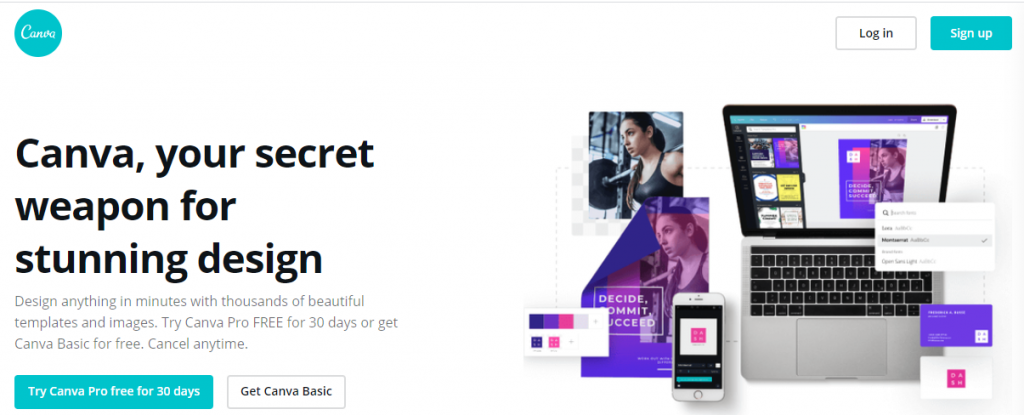 Another digital marketing tool is Canva. Canva is a free design tool that helps your business create professional-looking designs for every digital marketing purpose. It uses a simple drag-and-drop system for beginners and lets you choose from a vast collection of over 1 million graphics, photos, and fonts.
Standout features:
8000 templates and free icons

Photo straightener and cropper

Image transparency tool
23. Landscape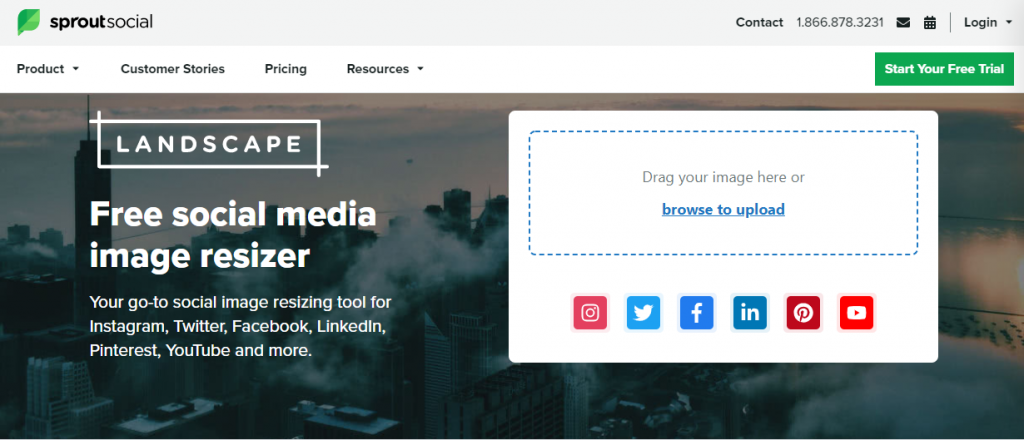 Landscape is Sprout Social's media resizing tool that provides a quick and easy way to crop and optimize images for different platforms. With its user-friendly interface, you no longer have to worry about different image formats and size requirements.
Standout features:
Resizing and cropping tool

Image customization and optimization
Content Curation Tools
24. Buffer
When it comes to scheduling, Buffer will help you find the best times to post and automatically upload posts for maximum consumer engagement. This ensures that your content is always posted at your target audience's peak time across different platforms.
Standout features:
Scheduling and management flexibility

Precision market testing

Cross-posting feature
25. Kapost
Kapost is a B2B marketing platform that lets you create as well as curate content for external sharing. One of its advantages is the inclusion of a content tagging function that allows you to design different content to different categories and buyer personas.
Standout features:
Content matching function

Content production insights

Team workflow and analytics
26. Scoop.it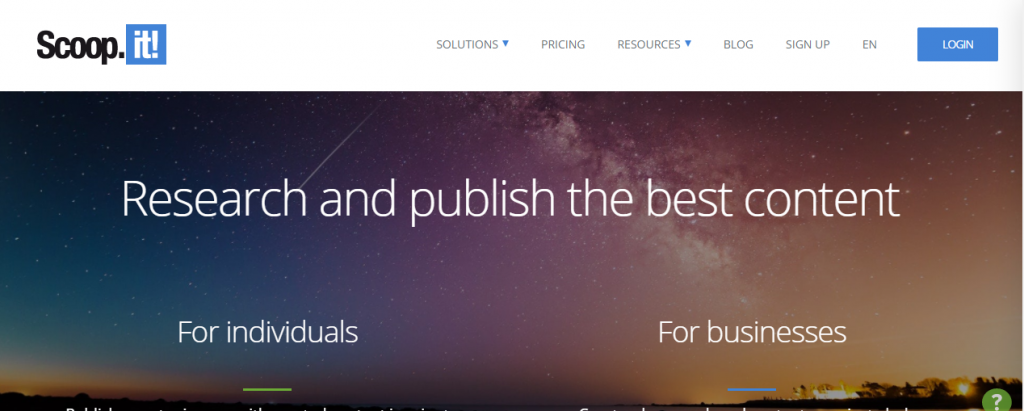 Scoop.it is a topic-centric curation tool that includes a smart searching feature that finds and suggests the best content that relates to your business or brand so that you can easily publish and share them as a resource for your target audience.
Standout features:
Content sourcing

Quick publishing
Email Marketing Tools
27. Mailchimp
Mailchimp is an email marketing software that allows you to send emails to thousands of recipients all at once. It boasts of a "forever free" plan, perfect for small businesses looking to save on digital marketing costs. Aside from automatic emails sent to customers at precise times, it also shows detailed analytics so you can check if your email content is hitting the mark.
Standout features:
Marketing CRM

Audience dashboard and segmentation

Predicted demographics
28. Emma

Emma, short for email marketing, is a digital marketing tool that helps you create and send email campaigns that are sure to reach customers at peak times of the day. With several automation and personalization features, Emma will help your business drive more revenue from email.
Standout features:
Event-triggered email

Drip campaigns

Auto-responders and subscriber management
29. GetResponse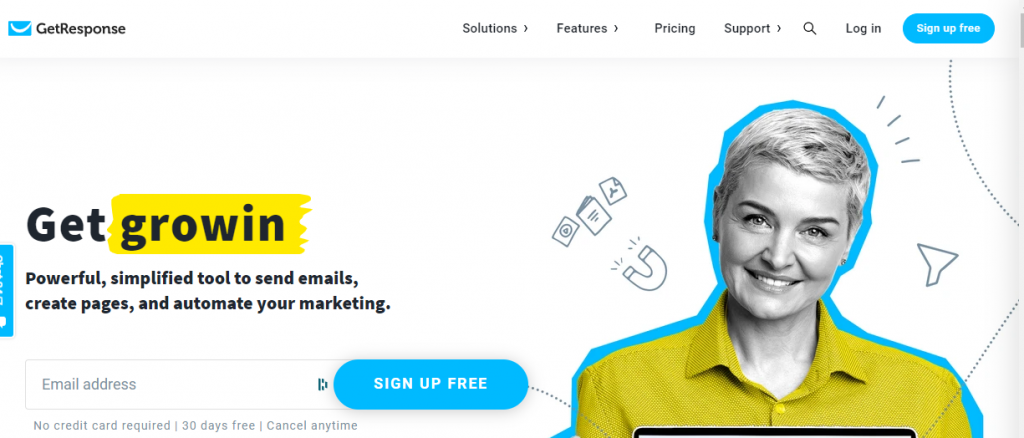 GetResponse is an email creator with an easy-to-use interface to create professional-looking emails and landing pages. It comes complete with tools to help you segment subscribers, measure site conversions, and view hourly fluctuations to track the effectiveness of your campaign.
Standout features:
Complete analytics

Responsive email design

 Landing pages
Search Engine Optimization Tools
30. Keyword Tool

As its name suggests, Keyword Tool allows you to perform the most basic SEO task: keyword searching. By simply entering a single keyword, it provides you with thousands of focus and long-tail keywords, as well as other valuable information like trends and cost-per-click.
Standout features:
100% accurate Bing search volume data

Autocomplete keyword search

Two times more keyword suggestions
31. Moz Local Listing Score
Moz is an all-in-one SEO tool that helps your site gain traffic and visibility by distributing your business information across several internet platforms. It focuses mainly on keyword and link research, as well as real-time distribution.
Standout features:
Site audits

Rank tracking

Backlink analysis

Extensive keyword search
Affiliate Marketing Tools
32. Flippa
Flippa is an affiliate marketing tool that acts as an online marketing place that facilitates the selling and buying of websites, businesses, apps, and domains. It works similar to a bidding auction where sellers list their assets for sale and buyers make bids on the listings.
Standout features:
Bidding and listing tools

Bulk management tools for domains
33. CJ Affiliate
CJ Affiliate is one of the most popular affiliate marketing tools because of its large network of bloggers and easy-to-use platform that features a self-service system so you can scale your efforts faster. It's a great starting point for connecting to publishers and to help drive sales.
Standout features:
Real-time transaction monitoring

Pay per call, site to store

Deep-link automation
34. VigLink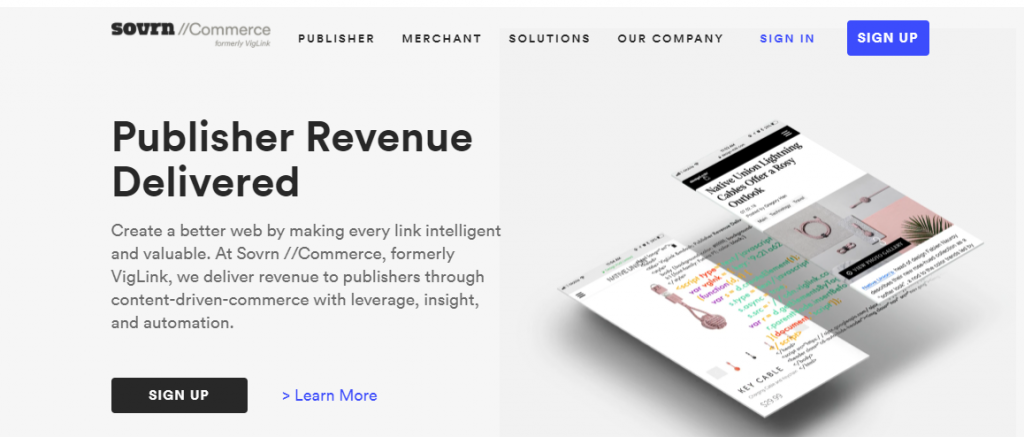 VigLink is an important digital marketing tool because it allows businesses to tap into a network of more than two million websites and apps owned by big-wig influencers. It's an excellent choice to help drive traffic to your website and get your business name some much-needed visibility online.
Standout features:
Multi-platform network

Automatic link insertion

Commercial links sharing

Customer Service Tools
35. Zendesk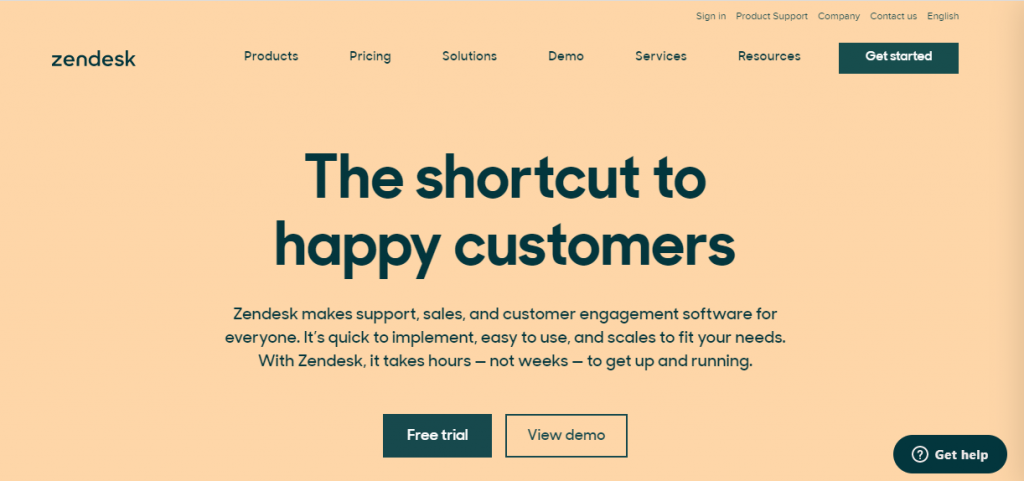 Customer service is one of the backbones of digital marketing. Zendesk helps make this easier for you by offering streamlined communication in the form of live chat, voice support, and online chatting to reach customers easily. It also makes things easier for your support team by giving customers access to a self-help portal so they can look for the information themselves.
Standout features:
Customer self-help portal

Streamlined communication format

Organizational/multitasking tools
36. LiveChat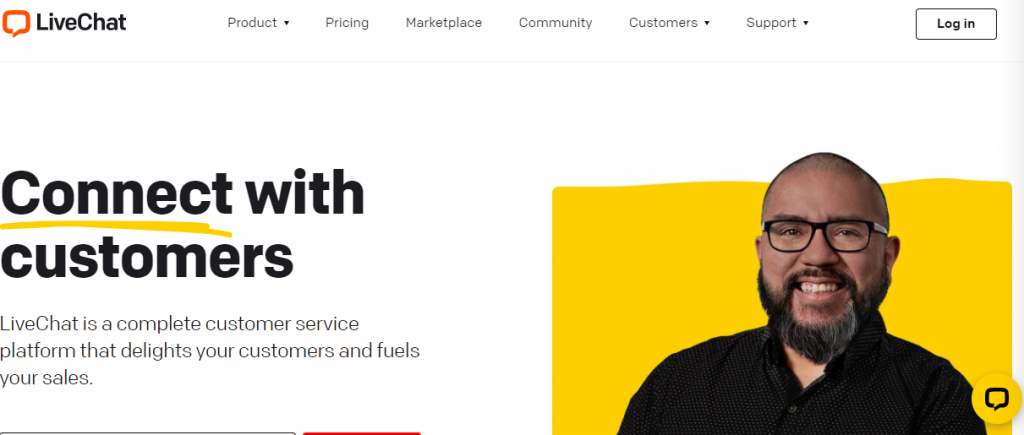 LiveChat is a passive chat box existing on your page that lets you chat directly with customers. It helps you answer inquiries in real-time and gives your customers that much-needed assurance that you are always there to assist them.
Standout features:
Conversational format

Multimedia friendly

Faster problem resolution
Security Tool
37. ZeroFOX
Labeled as a brand protection software, ZeroFOX protects your business primarily against hackers who seek to take control of social media accounts. It also has a feature that protects your brand's reputation by removing offensive and damaging content.
Standout features:
Domain and web protection

Advanced email protection

Threat intelligence
Digital Marketing Techniques
38. Social Media Marketing
If people don't know your brand, they won't purchase your products. Adding a social media strategy to your digital marketing plan is one of the best ways to enhance brand recognition and get your name out to potential customers through leading platforms like Facebook and Twitter. And you don't even have to spend much – it's as easy as creating a social media profile and interacting with your audience.
39. Podcast Advertising
With a rapidly growing audience worldwide, the surge in podcast advertising comes as no surprise. Podcasts make an excellent addition to your digital marketing strategy because they come in a convenient format that is conversational and intimate. Because it's mostly audio, podcasts allow users to multitask while listening – this means that you can reach your customers while they're driving, commuting, or doing household chores.
40. Content Marketing
Customers judge your business based on the content you produce. Content marketing helps improve your brand's reputation by building your customer's trust. The more quality content you create, the clearer it becomes to your target audience that you know what you're talking about. Content marketing is also the best way to reach strangers looking for useful and informative content.
41. Search Engine Optimization (SEO)
If you're not yet familiar with the term, SEO is a digital marketing technique that helps your business build up online traffic by increasing your search ranking on search platforms like Google, Yahoo, and Bing. It is an essential part of any digital marketing strategy because it increases website visibility and gives you a competitive edge even against larger businesses.
42. Blogging
Blogging is one of the best ways to broadcast your business online because a single blog post reaches hundreds of people across the globe. You can create relevant content via your blog that attracts website traffic (SEO). The more people visit your blog, the higher your conversion rate. Creating a blog is extremely cost-effective because there are dozens of free blogging platforms that you can choose from, like Tumblr and WordPress.
43. Blog Advertising and Sponsorships
Alternatively, if you find creating and maintaining your own blog too much of a hassle, you can instead pay for an advertising spot or sponsorship on well-known blogs. These blogs already have a great audience following, so you can expect better traffic for every blog post. A good tip for starting businesses is to use an advertising network like AdSense that connects you to hundreds of influential blogs to choose from.
44. Affiliate Marketing
Affiliate Marketing is an online advertising technique wherein websites called "affiliates" promote your products or business name by publishing a tracking link. Once users click this link, they are immediately redirected to your business website. Aside from increasing SEO, affiliate marketing also makes results and conversion rates incredibly easy to track through click-through rates and site views.
45. Local Search Marketing
Local Search Marketing is a form of SEO that helps your business become visible in local searches. To put it simply: it puts your business on the local map so that when customers search for businesses nearest to their area, your name instantly pops up. The best way to do this is by publishing an accurate address, phone number, and website URL to the most important online directories in the area.
46. PPC Advertising
Pay-per-click (PPC) advertising is a digital marketing technique wherein your ads are published on a website, and you pay that website a certain fee every time your ad is clicked. There are multiple platforms that offer PPC Advertising like Google Ads, Facebook Ads, and Bing. It's an excellent way to spend money and ensure faster ROI because it's performance-based – this means that you pay money only when a user actually clicks your ad.
47. Video Marketing
Many customers, particularly the younger demographic, respond very well to visual content. Video marketing boosts sales and conversions because many of your customers want to see your product in action. And because search engines like Google love videos, you're sure to increase SEO. When it comes to videos, there's no better place to start than with Youtube.
48. Influencer Marketing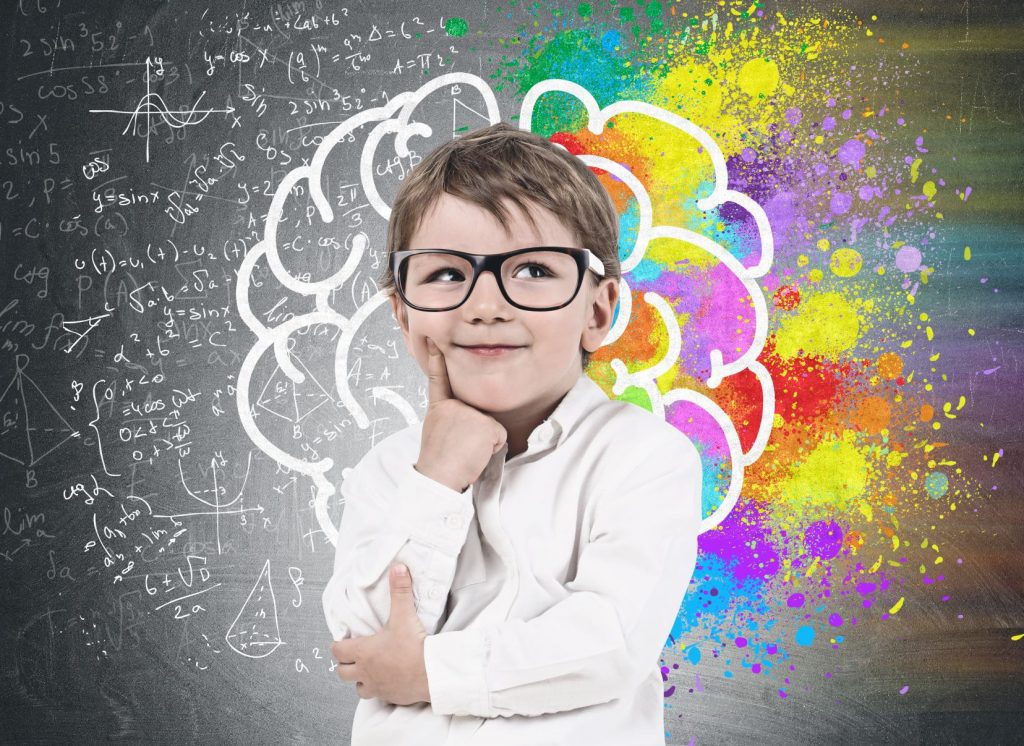 Influencers don't have to be celebrities. They may be online personalities with a large number of loyal and dedicated followers. And because they are perceived as experts in their particular niche, getting an influencer to promote your product is one of the best ways to build customer trust. Think of it as a modern form of word-of-mouth marketing.
49. Forums and Community Boards
Forums and Community Boards are public networks where online users exchange content and share experiences. Leading examples include Reddit and Quora which follow a question and answer format. These are great marketing channels because you get your name across hundreds of inquiring users who are looking for first-hand/personal recommendations. You may not get to promote your products directly, but you get a few mentions that could convert into site views.
50. Email Marketing
Simply put: email marketing is a digital marketing technique of sending emails to customers, both existing and prospective. It helps you segment your customers into specific lists and personalize your email messages to cater to their needs. One of the benefits of using email marketing is that it's a very low-cost marketing technique. Even if you hire content writers or email automation services, these costs are relatively minimal compared to other marketing techniques.
51. Conversion Rate Optimization (CRO)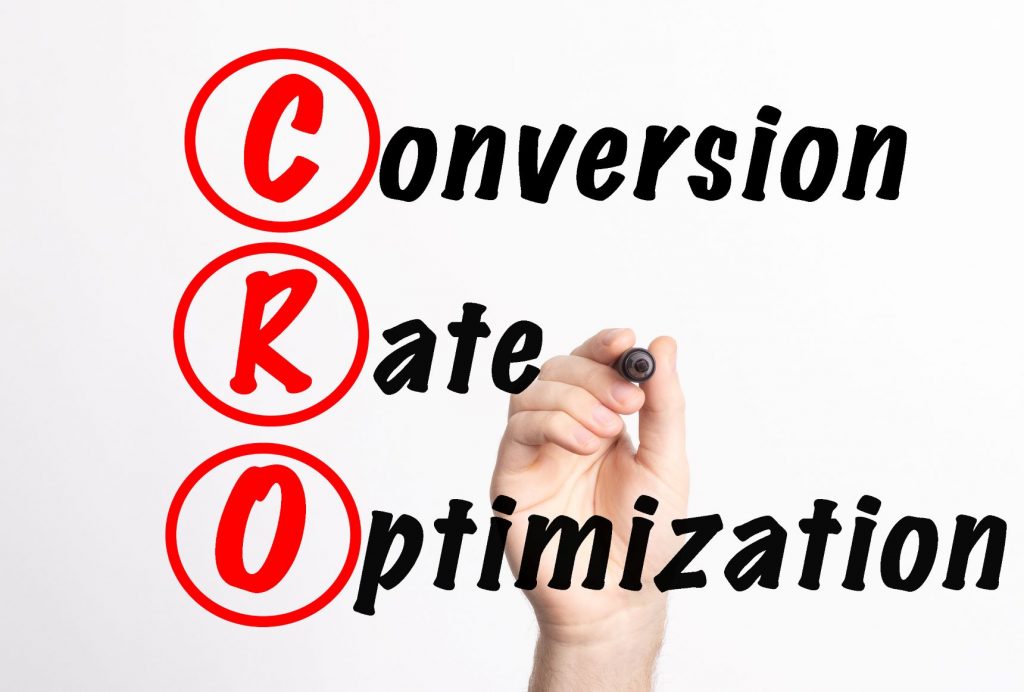 Conversion rate optimization is the process of enhancing your website and content to boost conversions. This is done by inviting customers to fill out a form, subscribe, or click on a call to action. Why is this important? Higher conversions mean your website is well-designed and appealing to your target demographic. It's an important aspect of any business because it helps you measure the effectiveness of your digital marketing strategy.
52. Promo Codes for Tracking Conversions
Promo codes are one of the best ways to reliably measure your return of investment (ROI). Acting like a prize for clicking on the website, promo codes are coupons given to users that typically offer discounts or freebies. This usually comes in the form of a word or short phrase that customers can access after visiting your website. Its main purpose is to track conversions, as you will be able to use this code to track the number of orders that originate from a particular website.
53. Instant Messaging Marketing
People today are more inclined to communicate using instant messengers like WhatsApp, Viber, and Facebook Messenger rather than SMS. It's an important part of digital marketing because it an almost 90% certainty that your message will be read by consumers. The specificity of instant messaging also gives you the assurance that you're talking to the correct demographic.
54. Marketing Automation
The downside of any digital marketing strategy is having to deal with repetitive and time-consuming tasks like regular content creation, dissemination of social media posts, and SMS messaging. The solution is marketing automation – using software to simplify and remove the hassle from your marketing strategy by allowing you to streamline, automate, and evaluate different tasks.
55. Remarketing
Sometimes called retargeting, remarketing is a digital marketing technique of targeting people who have previously shown interest in your business but left without actually converting. An example is when a customer asks for more information about a particular product but leaves the website without making a purchase. This is done by tracking these visitors.